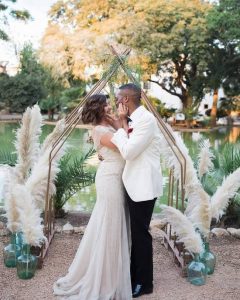 Buenos Dias in the Morning, Amores!
Lets talk about bringing in different languages, cultures and traditions to your ceremony. Basically, and in a big, fat nutshell- I'm ALL FOR IT, and in fact, I feel it is an essential part of any civil ceremony when appropriate. Take Lourdes and Colin for example, two very old friends from my Ibiza days who I had the massive honour of marrying in a civil ceremony, in Mallorca, no less, back in September 2017. Colin is from the U.K, Lourdes from Spain and whilst they are both bilingual as were many of their wedding guests, not all of them were, including the bride's parents and some family members. Therefore, it was really important for me to make sure that everyone was included in the ceremony- or at the very least, had a good understanding of what was being said throughout.
And so, we set to creating a very bespoke bilingual ceremony for them and with a little help from their friends and family, who participated in prayers, readings and speeches we did just that. Now, luckily for me, I have a very distinct advantage being fluent in Spanish myself ( did you know I lived there for most of my adult life?) and so, that came in very handy for such an occasion.  And it's fair to say, from the feedback in any case, that it all turned out LOVE-ly and Colin & Lou's Wedding Weekend went down in history as one of the best weddings Yours Truly personally has ever been to- everything about it just made it so them, and as for the disco under the stars, 'Oh, what a night, late September back in '17!  Thanks Lou & Col, love you both so much!
Anyway, from Mallorca back to the Maiden City and it was another case of mixing up the words for Stanislava & Lee's bespoke wedding ceremony in the Playhouse Theatre. Stanislava, whilst now an honourary adopted Derry Girl, is originally from Bulgaria and so, apart from a different language, boy, did she bring some of the most stunning examples of traditional Bulgarian wedding culture with her to her ceremony- these included a hand stitched embroidery depicting the steps of love and marriage, made by her/ mother and used for the couple's HandFasting. And let's not forget the baked-by-her-own-fair-hand bread that the couple took turns hitting each other on the head with- to see who was Boss going forward lol. And, of course, I did my best to learn a few Bulgarian words and phrases to incorporate into the ceremony as a way of acknowleging the out-of-town guests and the effort they'd made to be there.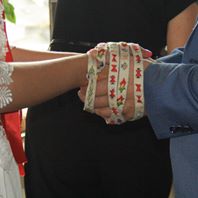 And, then, of course, there's the cross-border relations! As many of my couples are understandably Irish, the door is always wide open to give them a hearty Cead Mile Failte. Some of my wedded ones opt to have their readings or read their vows in Irish and again, that makes for a very nice personal touch. Secretly, I long for the day a Bride Irish dances her way up or down an aisle but you know, fingers crossed, our day will come! On the other hand, still on a Celtic vibe, it was great to see Darren&Co rockin' their traditional Scottish kilts at his and Nicola's wedding a couple of months back. Uppa Scots!
Talking of Scots, it's off to Glasgow for me this summer for the very long awaited wedding ceremony of one of my own oldest and dearest, The Schma aka Nana Knox/ Knoxie/ Oor Linda to her very own Scottish Square Sausage, Big Stephen in the city's beat-filled belter, The Barrowlands…and that will be one gig they'll surely never forget- a wedding ceremony on the very stage that many of our musical heroes have graced, cannot WAIT – and there's be a few different brogues and languages at that one, no doubt, especially a bit later on when we should all be fluent in several international tongues with the help of a chupito or three lol. Hashtag Ibiza Family Reunion woohoo!
And still on Spanish for the moment. I've just confirmed an open air ceremony in the grounds of Dunluce Castle for 2023 ( yes, 2023's diary is open fyi) and that will again be Spanish-English combo at the bride and groom's request. Asi que, gue ganas tengo de oficiar en aquella ceremonia! Que viva el amor!
So, now you know, best you bring it! Bring your language, bring your traditions, bring your bits and bobs. For if your ceremony is going to be all about YOU, then lets make it so! All about YOU and all about YOUR LOVE!
Hasta la Vista, Babies, y que el amor os acompañe!