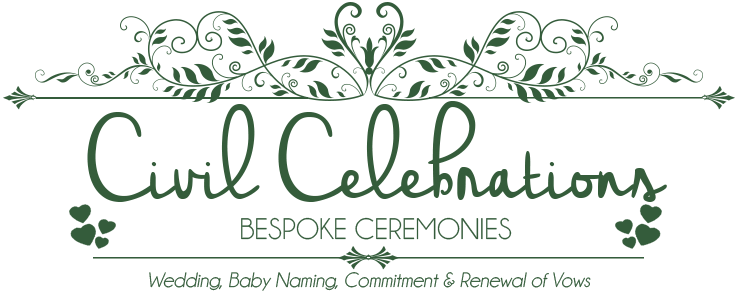 Why choose a non-legal civil ceremony? It gives you the freedom and flexibility to have your day, your way. You decide what to include, your own vows, readings, poems, music, decor and anything else you fancy, without restriction. Religious references may also be included if desired. Most importantly, your ceremony should reflect your personal tastes, beliefs and lifestyle. Civil Celebrations can help you do exactly that.
Wedding, baby naming, renewal of vows and commitment. We work with each and every couple and family to help make your day extra special. Civil Celebrations founder Jillian Canney is a Civil Celebrant with an NOCN Level 3 Diploma in Celebrancy: Naming & Couples, based in Derry, Northern Ireland. She delivers a range of unique and alternative ceremonies, from hand-fasting and sand-pouring to a simple exchange of vows.


Embrace the freedom that a civil ceremony brings with a bespoke wedding or commitment ceremony. Include a Hand Fasting or Unity Candle and/or include your own ideas, too. Pretty much anything is possible when you go civil.

Welcome to the family, baby! Baby Namings – or Baby Blessings – are the perfect way to present your little bundle of joy to your nearest and dearest, whilst you and your baby's supporting adults make your life promises to your little one(s).

The stuff dreams are made of. Many years down the line, still side by side and still proclaiming those three little words, loud and proud. A Renewal Of Vows is a beautiful occasion and a great excuse to bring family together in the name of love.
We are so happy that we considered Jillian to perform our wedding ceremony. She provided us with amazing support before the big day, offering possible structures and great suggestions for elements to make the day special and about us.Jillian created such a beautiful and personal ceremony, it really felt magical to us on the day! Thank you so much Jillian. You have an amazing talent and we are so happy that you were part of our special day.