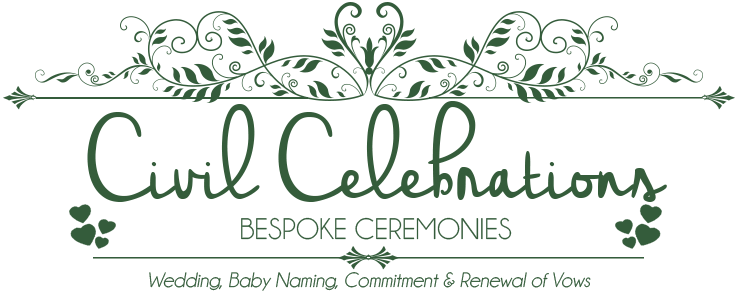 Meet the Celebrant!
Jillian Canney is a fully qualified, independent civil celebrant. Offering a bespoke service, her goal, as celebrant, is to create and deliver tailor-made ceremonies for couples who want to do their wedding, their way….
Jill also creates Baby Naming, Renewal of Vows and Commitment ceremonies as part of her role as celebrant.
The Joy of Going Civil…
Getting married these days can be a bit of a minefield. Rules and regulations everywhere, right?! But not with a civil ceremony! By its very nature, a civil ceremony celebration gives you the absolute freedom to have your day, your way. No restrictions on times, locations, and most importantly, ceremony content. The power to put together an entirely unique and very personal celebration of your love…


Embrace the freedom that a civil ceremony brings with a bespoke wedding or commitment ceremony. Include a Hand Fasting or Unity Candle and/or include your own ideas, too. Pretty much anything is possible when you go civil.

Welcome to the family, baby! Baby Namings – or Baby Blessings – are the perfect way to present your little bundle of joy to your nearest and dearest, whilst you and your baby's supporting adults make your life promises to your little one(s).

The stuff dreams are made of. Many years down the line, still side by side and still proclaiming those three little words, loud and proud. A Renewal Of Vows is a beautiful occasion and a great excuse to bring family together in the name of love.
Thank you so much Jillian for a wonderful ceremony. It's made our day so special,with all the personal touches.
You were brilliant to work with from the initial meeting and right up to the wedding day. R&M xx
Roma & Michael
Thanks so much to Jill from Civil Celebrations, her ceremony was the icing on the cake (pun intended!). She conducted the ceremony in both English and Spanish, thereby creating a vital link between our families and friends, in the most special moment of our lives. She combined professionalism and humour at just the right moment and kept me going when the tears wouldn't stop flowing. Both myself and Lourdes will be eternally grateful for all your hard work, dedication and enthusiasm in making our wedding wonderful, If you are looking for a wedding celebrant then Jill's your woman. As Dennis Edwards said,"Don't look any further!"
Colin & Lourdes
Jillian I can't thank you enough for being our celebrant. You were an absolute joy to work with from start to finish. Everyone was completely blown away by you and the ceremony itself and they continue to tell us so. I couldn't have wished for a more perfect, wonderful, warm, heartfelt and tailor made service. You captured everything that made us 'us' and turned it into the most beautiful (and hilarious) ceremony. You made us laugh, you made us cry & you made us married! THANK YOU Xx
Dave & Julie
Our Wedding Ceremony was magical, thanks to all the time and effort put in by our civil celebrant, JIllian. All her suggestions and attention to detail made the whole event come together in such a beautiful and special way. Thank you so much, Jillian, a wonderful day to remember for the rest of our lives!
Jane & Decky